Location
The Hotel Natalina is near downtown Taormina, one of the most alluring sites in Sicily, able to excite you with its breathtaking views, ancient monuments and astounding Greek Theater.
The cableway that stops just 100 meters from the hotel quickly takes you to the beautiful Mazzarò and Isolabella beaches from where, on a clear day, you can see the nearby Calabrian coast. Heading towards Porta Messina, it's just a 4 minute walk to Corso Umberto I, Taormina's main street.
Corso Umberto I is the heart of the city, with a charming and lively boulevard lined with elegant boutiques, famous restaurants, ceramic craft and souvenir shops. The window displays at the delicious pastry shops will make your mouth water.. From the Corso, it's a short walk to Badia Vecchia, the fortress that houses Taormina's interesting Archeological Museum.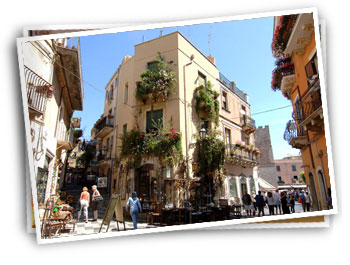 Just before the Corso ends, two hundred meters from Porta Catania, Piazza IX Aprile provides a glorious view of the gulf, the characteristic step leading to the Church of St. Joseph and the late Medieval Clock tower. Near Piazza Duomo, Taormina's impressivecathedral - dedicated to St. Nicholas - houses remarkable works of art.
The small town of Castemola evokes an incredible feeling. The ancient stronghold behind Taormina dominates over the entire gulf with a castle literally clinging to the cliffs. Summer nights are romantically spent watching the sunset and dining in one of the town's small squares, wrapping up the evening with an almond liquor nightcap. A small pearl.

Choose the hospitality of the Hotel Natalina to discover the exciting Etna Park settings and stupendous area surrounding Europe's largest volcano or visit the Gole dell'Alcantara for an unforgettable trip 10 kilometers from Taormina. Catania and its Baroque charm is less than an hour away by car.